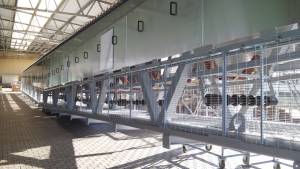 All our customers in the heat and power generation industry can benefit from our belt conveyors. They are used for transporting slag, ash, coal dust and all other loose materials.
The key characteristics of our belt conveyors are:
belt width: 400-1,400 mm

belt length: 5-300 metres

capacity: 10-700 CBM per hour.
These values will vary depending on the conveyor. We are prepared to make conveyors according to customer-supplied documentation. Alternatively, you can ask us to rely on documentation prepared by our in-house designers.
How are belt conveyors made?
The conveyor structure is made of metal sections. The conveyor drum has sliding bearings. The drum surface is covered with rubber to prevent sliding. Sliding is also prevented by the use of a directional drum installed close to the drive drum and the return drum.
Self-adjustable ring sets are used to ensure that the rubber belt is adjusted properly along its route. Our belt conveyors are supplied primarily to the world's leading heat and power generation companies. The conveyor is powered by electric geared motors. These are mounted directly on the drive drum shaft. The use of gears between the drive and the shaft is therefore not necessary.
A scraper mounted next to the drive drum and another one mounted next to the directional drum are used to clean the rubber belt from the outside. The main scraper comes with replaceable sectional plates made of cemented carbide. An internal scraper is also used to clean the conveyor belt from the inside. This scraper keeps the material carried by the conveyor off the surface of the return drum.